Will Sleeves Save Basketball?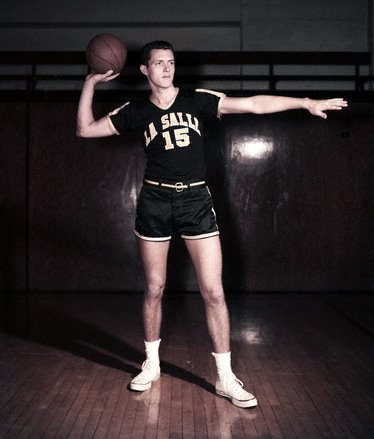 This was a time when Larry King was still king of cable. We were doing a piece on the former Floridian for the Sun-Sentinel's Sunday magazine. He had finished his TV show at the CNN headquarters in Washington and gone across the Potomac to Arlington, where he did a late night radio show. It was often about sports. During a commercial break he asked where we had gone to school. We told him, "La Salle."
"I can see Tom Gola now in the Garden," King blurted. "La Salle wore sleeves on their uniforms. What a ball player!"
Larry King was right on both counts. We mention him today for historical perspective on one of the great events in the history of modern sports. The Cleveland Cavaliers wore jerseys with sleeves in their NBA championship series with Golden State. The Cavs lost the series, but history will little note nor long remember that. What scholars centuries from now will record is that it marked the first time in anyone's memory that a prominent basketball team dressed up to the occasion. LeBron James and his teammates brought back sleeves to basketball.
We predict that in the near future sleeves will make a comeback, taking us back to the glory days of the 1950s when Larry King was a teenager watching Tom Gola in Madison Square Garden. La Salle not only played better than almost any college team for several years; they also had everybody outdressed. With the sleeves, they won the National Invitational Tournament in 1952, when that was bigger than the NCAA Tournament. They won the NCAA in 1954, and were runner-up to San Francisco the next year. That loss wasn't their uniforms' fault. They had San Francisco outdressed, but the Dons happened to have Bill Russell and K.C. Jones in the same lineup. Two future great pros. La Salle had only one. Sports Illustrated described La Salle as "four students and a basketball player."
Outside of Philadelphia, where he was prominent as a coach and in politics (he was city controller) after his playing career, Tom Gola's name may have faded. But he still holds the NCAA rebounding record more than 60 years after he played. He was just a tad under 6 feet 6 inches, although he seemed taller, and was reported as high as 6 feet 8 inches by those of us who exaggerate for a living. But he was that rare player who helped his team as much on defense as offense. They didn't keep records of steals and pilfered passes in that era, but Gola was a master at that. He had great reflexes—both hand and foot speed. He was the Philadelphia high school 440 champion. It seemed on the basketball court that he moved faster running backward than other players did in forward motion. Those gifts made him a great rebounder. He just got to the ball faster.
The success of La Salle's uniforms led a number of other teams to adopt that classy look in ensuing seasons. It wasn't unusual to see a prominent team wearing sleeves in the latter '50s and early 1960s. La Salle wore them for about 15 seasons. For a time Philadelphia rival St. Joseph's took up that look and did pretty well with it. Of course they had a great coach in Jack Ramsay. Why either team gave them up can only be explained by whoever let Notre Dame football dress like the GEICO gecko for a few novelty games in recent years.
One of the teams that adopted sleeves—in fact, a few years before La Salle—and kept them for decades, was Evansville. They got a lot of publicity out of their uniforms and wore them into the 1970s when their excuse for de-sleeving was that players complained they added weight. Their coach said they also hurt recruiting with some players who did not like them. The weight angle seems a little silly, considering at the same time basketball pants went from short-short to near wedding dress lengths.
If there is a drawback to sleeves, it is illustrated by the Cavaliers' recent presentation. Their uniforms were too tight fitting. It showed the muscular studs to good advantage, but LeBron James actually said he felt restricted. He only had 41 points and 13 rebounds in the final game. Back in La Salle's day, the uniforms were a little less confining, and players not only were not turned off by the look, but also were delighted to look so pretty when they played in Penn's Palestra.
It should be noted that as with everything else in modern sports, there is a mercantile component to this story. It has been reported that a uniform manufacturer is behind this throwback movement. It supplied not only the Cavaliers, but also some college teams in the NCAA Tournament with sleeved jerseys. The motive is obvious. We can expect to see all sorts of college, high school and even younger-age teams adopting the look of the pros they aspire to be. And there are always the fans who commit a large part of their gross income to acquiring every piece of apparel worn by their favorite teams. The jingle of the cash register can be heard around the world, or would be if we still had cash registers.
The sleeves, like everything else in modern sports, are controversial. Some fans think they look awful. But some fans have awful taste. Welcome back sleeves to basketball. Now if only they'd start bouncing the ball again.
Image via
---