Saving Basketball From Itself
If one follows the Miami Heat in the newspapers these days, it is sometimes hard to find out if they won or lost. But what is not hard to find is an injury report, which seems to appear on a daily basis. In just the last few days, headlines read "Butler: I will get this thing right," which was about Jimmy Butler trying to get healthy after missing half of the last 24 games, and "Martin plays through pain," detailing Caleb Martin playing with an ankle sprain. When half the players who starred last year are not playing — replaced by players brought up from the minor leagues — can a fan be faulted for losing interest in the entire program? And it just isn't the Heat missing stars like Jimmy Butler and Tyler Herro. Many teams in the NBA are in the same fix.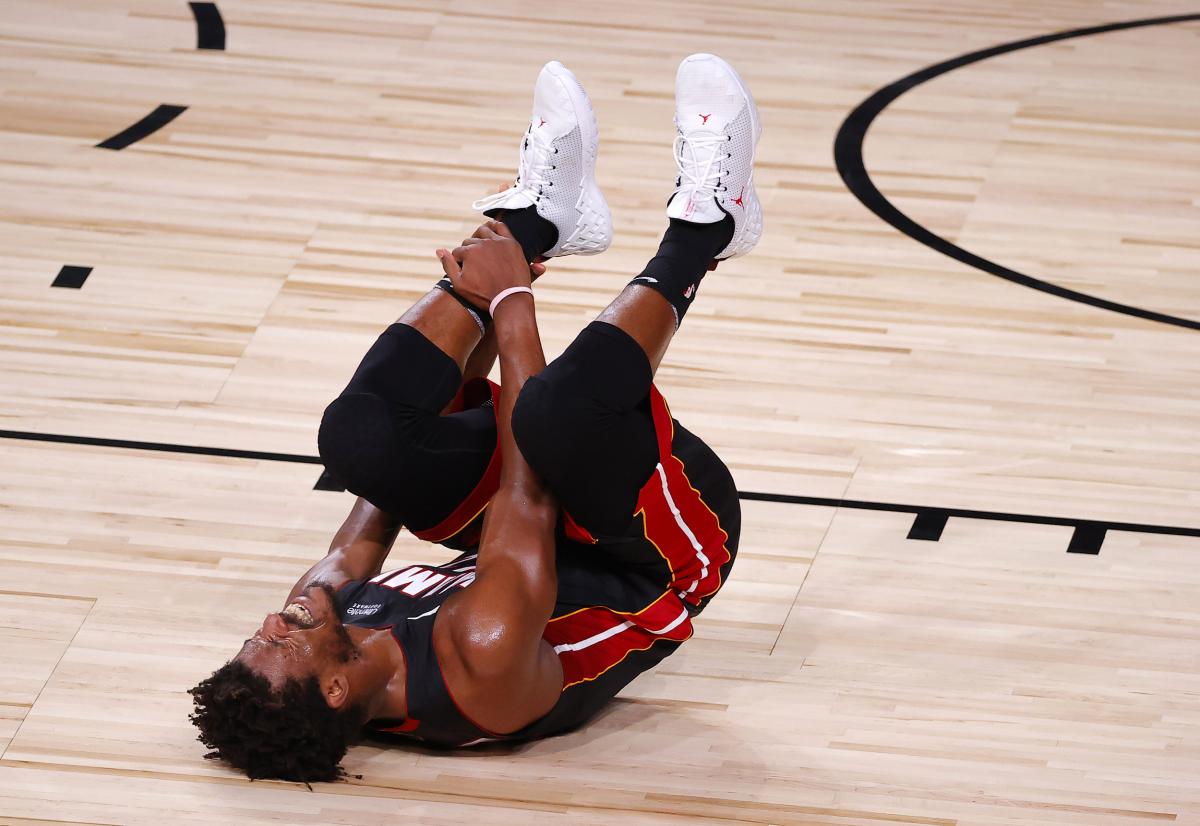 This 2020 photo of Jimmy Butler captures a too familiar moment. (Kevin C. Cox/ Getty)
For perspective, think back a few generations to imagine Boston Red Sox fans watching a game without Ted Williams, or the Yankees without Joltin' Joe Dimaggio, or the Celtics minus Bill Russell or Larry Bird. Not much bang for a buck. But for basketball fans, that is the reality. James Naismith would hardly recognize the game he invented in 1891 that was not as rough as football and could be played indoors in winter months. But Naismith's concept has, over the years, been perverted to the point that NBA teams often have more key players out with injuries than NFL football teams. The reason is obvious: whereas football constantly makes rules to protect players, such as face masks and targeting penalties and illegal blocks, basketball has done the opposite. Rules against discontinuing, palming the ball, traveling and charging have been so relaxed over the last few decades that physical contact occurs on every other play. Players routinely collide when driving to the basket at high speed, and the foul, if called, is usually on the defender. The physical aggressiveness of Jimmy Butler makes one wonder why he isn't hurt on every play, much less every game.

It wasn't always that way. Back in 1968, we followed the Philadelphia 76ers for Philadelphia Magazine for the first 18 games of the season. The Sixers, led by native son Wilt Chamberlain, had set a league record (68-13) the previous season in winning the NBA championship. Chamberlain's supporting cast included rookie Billy Cunningham, Wali Jones, Hal Greer, Luke Jackson, and Chet Walker. Coach Alex Hannum had said he thought his team was good enough to go undefeated — thus, the theme behind the story. In fact, the 76ers were 13-5 to open the season, but that's not the point. As we recall in those 18 games, there was only one minor injury. Four starters played all 82 games that season. That continued a trend from the previous year when Chamberlain did not miss a single game. The reason: despite his great size, Chamberlain did not play a strong contact game. He did not use brute force to overwhelm defenders. Rather, his signature move was a fade away finger roll which rarely got blocked. But he, and the rest of his team, did not have to contend with opponents making contact with the force you see today.

So how do we return to that relatively safe era? It is not realistic to try to go back to the time when rules permitted only one step when a player picked up his dribble and was not allowed to take so few dribbles that it almost amounts to passing to himself. Nor was there such a thing as restricted areas. But a lot could be accomplished if refs began calling fouls on the player who initiates contact. That is usually obvious, especially when both players are moving, and that's nearly every play. If players had to go around defenders, rather than through or over them, one would expect far fewer injuries from awkward encounters.

And Heat fans could be rewarded by seeing Jimmy Butler play most of the time. And James Naismith might cheer from his courtside seat in the graveyard.
---