Not close—this IS home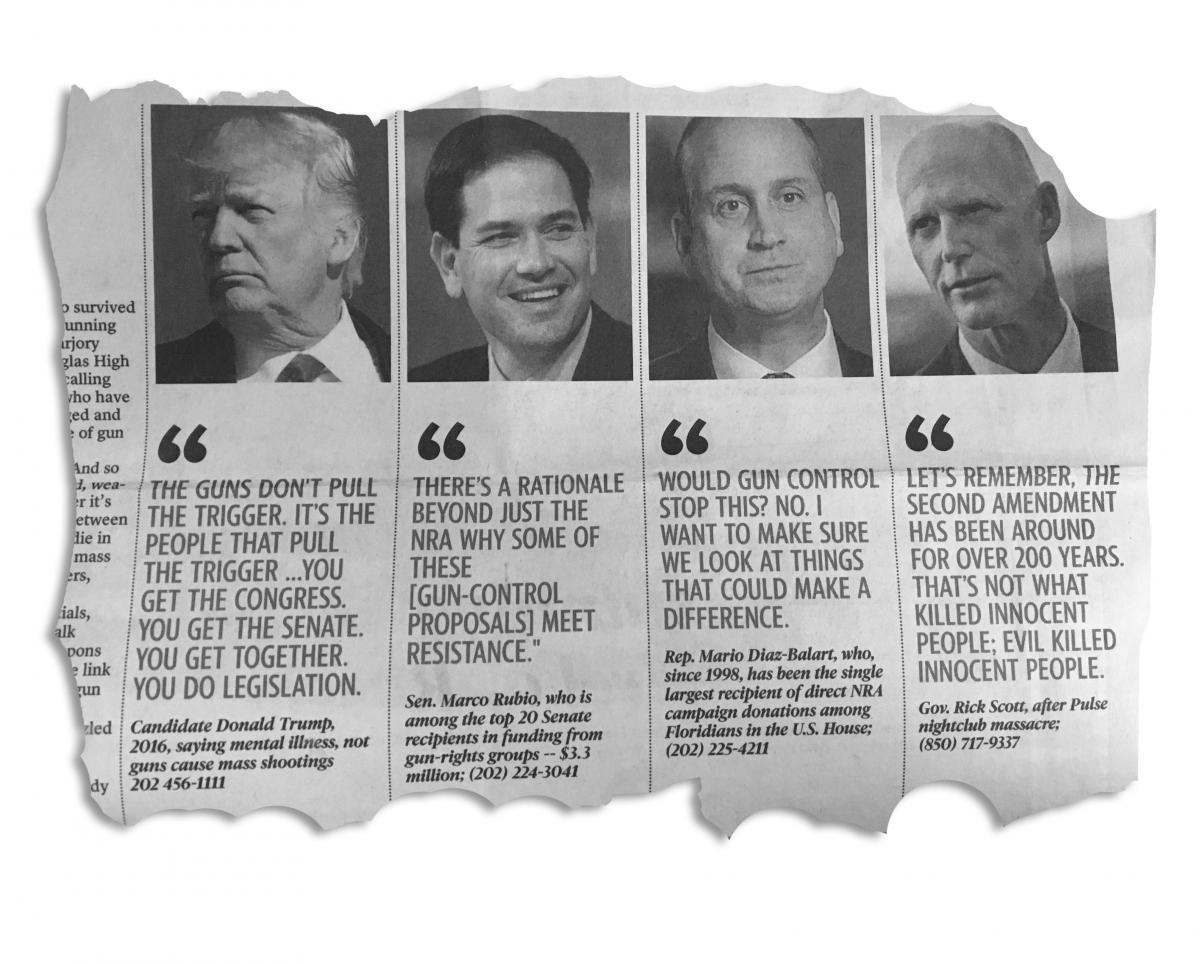 Jimmy Fazio, the late restaurateur who knew how to navigate the rougher waters of life, had just been paid a visit by the cops. This was in Wally's Olde Town Chop House back in the mid-1990s. The place is now called Himmarshee Public House.
The police visit had resulted from a complaint by one of Fazio's business associates.
"They said Mr. M----- said that I had threatened to kill him," Fazio reported. "They asked, 'Did you threaten to kill him?' I told them, 'No, I never threatened to effin' kill him.' They said, 'Did you threaten him in any way?' I said, 'Yes, I threatened to break his effin' legs.' 'Oh,' they said, 'That's OK.' So Bernie, be sure to never threaten to kill anybody, but it's OK to threaten to break their legs.' "
This picaresque tale may be amusing, but it applies to a situation that is anything but funny. It is a defense mechanism to prevent us from writing anything extreme about the punishment deserved by those we consider accomplices to the murder of 17 people in our county last week.
This awful incident was not just close to home. It was home. There are not many people around here who have not been personally affected by the latest mass shooting. In our case, one of Gulfstream Media's oldest and most valued employees, art director Craig Cottrell, had a kid and a nephew at Marjory Stoneman Douglas High School. Thank God they were not victims. His daughter escaped by climbing over a fence.
One of the students killed is the daughter of the lacrosse coach at St. Thomas Aquinas High School, which our grandchildren attend. Another victim was Douglas' cross-country coach, whose team competes against our talented grandsons at St. Thomas.
The anger here is therefore more immediate and personal that any of the other mass shootings. And the accomplices to murder are close enough to be reminded of Jimmy Fazio's advice. They are all the Florida politicians on both the state and federal level who are prostitutes for the NRA. They take campaign contributions which amount to bribes. That money is legal, but it should not be. It is blood money. Some observers have noted that it isn't all about money. There is also the fear that the NRA will use the same dollars to defeat any candidate it can't control, and will fund a primary challenge to those who defy it. Either way, the politicians are afraid to cross this organization which is funded by the arms industry.
Sunday's Miami Herald ran the photos of nine of these politicians, beginning with President Trump, which looked almost like a "Most Wanted" poster. Such condemnation leads to hope that perhaps our local tragedy may prove a tipping point.
"Maybe this time it will be different, maybe this time people will be so angry that something will happen." So spoke our colleague Craig Cottrell, father and uncle of two students at Douglas. We would like to think so, but the early reaction seems to be terribly familiar. The local response has been uniformly admirable. Saturday's Sun-Sentinel caught the mood. There was a lead op-ed piece by Gary Farmer, Broward state senator, calling for gun control. His piece concluded with seething determination:
"As legislators and parents, we will not rest until we can ensure the safety of our children and communities. We will fight tooth and nail against every dangerous and nonsensical pro-gun piece of legislation in the legislature. We will not allow our legislature to act as a contributing factor for the terrifying violence that we saw this week, and we demand that our fellow legislators do the same."
In the same section Broward Commissioner Michael Udine, whose district includes Parkland, wrote "...in addition, we must demand that Congress enact an assault weapons ban that includes AR-15 semi-automatic rifles and further background checks. Any issue whatsoever that comes up in someone's background should be investigated before they can obtain a gun."
Even more telling were nine letters to the editor. One was a short pious "praying for you" thought. The other eight all called for gun control or voting out those paid-off legislators who block sensible laws. There was no sign of the usual second amendment rights BS.
That was here. Elsewhere, the early returns showed the usual NRA lackeys reaction to such tragedies. President Trump made a publicity trip to say this was bad and praised the first responders and health care workers, but there was no mention of gun control. It was more of the same with Sen. Marco Rubio, House Speaker Paul Ryan, State Senate President Joe Negron, who all called for action, especially in the area of mental health and increased school security, but did not touch the obvious problem—the existence of military-style weapons in the hands of anyone except combat troops.
The mental health issue is simply a way of avoiding the truth. And the same Sun-Sentinel page handled that canard beautifully. Surely the young man who confessed to the murders is mentally ill. Steve Ronik, the highly respected CEO of Henderson Mental Health Clinic, whose organization had contact with the shooter, and did not consider him an immediate threat, wrote that the percentage of violent crimes by the mentally ill is very small. He identified the real problem—that the mentally ill can get their hands on the weapons that even the sanest person should not possess in civilian life.
But newspaper articles are not going to solve the problem. And since Jimmy Fazio's advice to threaten to only break their legs is probably illegal, even in Florida, where do we go from here?
We go back to the west of Ireland, 1880, when Charles Parnell suggested to angry Irish who wanted to kill a hated landlord, Charles Boycott, that a better, more Christian solution was to "shun" the man.
And they did. No restaurant would serve him; no carriage driver would transport him; no servant would work at his house; no field hand would harvest his field; no one would even speak to him. People crossed the street when they saw him coming. It worked. He could not even get a driver to take him to the train when he left for his native England. He left Ireland and he left the English language with the word "boycott."
So it should be with these NRA bribe takers. They should be met with contempt at every turn. Do not honor them with invitations. Boo when they are introduced. Call the Hessian bastards exactly what they are—accomplices to murder. Make their lives unlivable, as the better angels of the Irish nature did to Charles Boycott so many years ago.
And, of course, vote them out of office, early and often.
---