Notre Dame's Message To The New VP
The office of vice president of the United States, long considered a job without a job, has taken on more importance in this century. President Obama called on his vice president Joe Biden's long experience in the U.S Senate in giving him work dealing with other legislators on important matters. Apparently President-elect Biden handled them well. More recently, President Trump assigned Mike Pence the job of managing the Covid 19 response team, in which the VP did not cover himself with glory. He proved much better in his secondary role of figuring how to praise President Trump at least 10 times in a 12-minute speech.
Now, however, we have found a true responsibility for Kamala Harris, President-elect Biden's vice president. It is a role the world will embrace, and likely go down as the standard for future vice presidential performance. It is a decidedly simple task - make sure that no presidential function ever competes with Notre Dame football.
That was what happened two weekends ago when one of the more epic games in college football was interrupted by NBC to bring us the acceptance speeches of Biden and Harris. It may be the only serious mistake Biden made in his campaign. Fortunately for him, the election was over and won; had this happened earlier, it could have cost him the election. The game, of course, was ND's thrilling 47-40 win over Clemson.
Clemson, a talent heavy team, was ranked number one. The gritty Irish were number four. The game was exciting from the opening kickoff, and was being hotly contested midway in the second quarter when NBC switched to coverage of the acceptance speeches. This was after NBC had promoted the classic match up all week.
There followed about a half hour of Harris thanking everybody who moves, and Biden, in a somewhat shorter appearance, mouthing the usual banalities associated with such events. The interruption was particularly irritating because of all the promo NBC had given the game. Also, the speeches were carried on several cable channels. Anyone whose distorted sense of values would prioritize a political event over a great college football game had no trouble finding a station. Not so with the football game. It is doubtful that the protest heard around the land was any louder than in South Florida, especially Fort Lauderdale. Notre Dame has an extraordinary presence here. Clemson is a big school (20,000 undergrads) and so dominant in its neck of the woods that Clemson, South Carolina was renamed (from Calhoun) to recognize it. The school undoubtedly has its own local fan base, but it can't compare locally to the Irish following.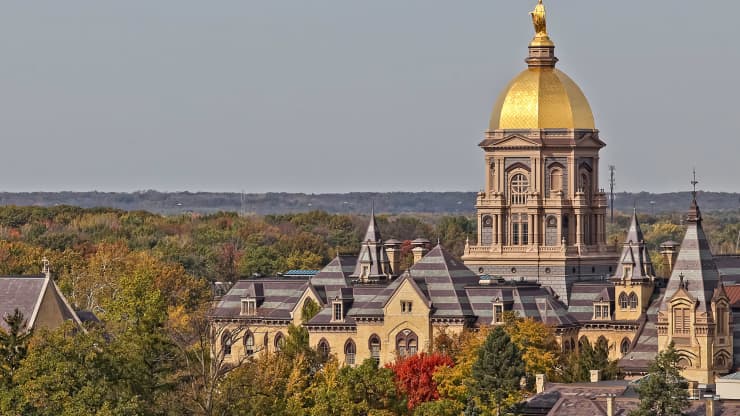 The Notre Dame-Fort Lauderdale connection goes back almost 100 years. It began with Governor R.H. Gore, a self-made Indiana native, who built the Fort Lauderdale News (now the Sun-Sentinel) into a remarkably successful paper. He was a big ND fan and sent six of his family to the school. One of them was a founder of the very strong local Notre Dame alumni club.
The media connection lived on until recent years. Not long ago, the three dominant magazines on the Gold Coast were owned by Notre Dame grads - Palm Beach Illustrated (Ron Woods), Boca Raton Magazine (John Shuff), and Gold Coast and its related magazines (Mark McCormick).
Another big Notre Dame family is the Mauses of the Maus & Hoffman clothing stores. The three brothers who ran the company for years - the late Bill Jr. and Tom, and John, who still runs the Palm Beach store - were all Domers. There were a number of relatives and spouses who headed for South Bend at ND, or attending ND's sister school, St. Mary's College.
Another brothers combination from Fort Lauderdale are the Zlochs. William Zloch, now the senior judge of U.S. Southern District of Florida, quarterbacked the Irish in the 1960s. He was followed by his brothers Chuck and Jim, both football players out of Central Catholic High, now Saint Thomas Aquinas.
A more recent Irish influential figure is three-term Fort Lauderdale Mayor Jack Seiler. He also is vice-chair of the Orange Bowl Committee. His grandfather, Earnie Seiler, was the founder of the Orange Bowl back in 1935.
There are a few professions in which a Notre Dame grad is not prominent. In the restaurant field, Paul Flanigan founded the chain of Quarterdeck restaurants. He started out working for his late uncle, Joe Flanigan, of Flanigans restaurant fame.
The Zlochs are one of a number of Irish athletes who either grew up here or played in South Florida as pros. Jimmy Evert, father of tennis champion Chris Evert, ran the tennis program at Holiday Park for decades. He was captain of ND's tennis team in 1947.
The late Nick Buoniconti and Bob Kuechenberg were star linemen on the Miami Dolphins' legendary undefeated 1972 team. Both had distinguished Florida careers after football - Buoniconti as a philanthropic attorney and Kuechenberg as an art dealer.
Notre Dame's all-time rushing leader, Autry Denson, has deep Broward County roots. He played for Nova High and later in a brief pro career with the Dolphins. He is now head coach at Charleston Southern University.
A less well-known athlete is retired attorney Harry Durkin, who played minor league baseball. He's locally known as the former president of the large and influential Fort Lauderdale Notre Dame Club. He also has the distinction, for which he was honored by the university, of having been president of an ND alumni club in his native New Jersey.
More recently, Anthony Fasano served two stints as a tight end for the Miami Dolphins. In retirement, he founded Next Treatment Addiction in Delray Beach.
Craig Counsell had a brief but distinguished career as part of the Marlins' 1997 World Series-winning team. He now manages the Milwaukee Brewers.
Brady Quinn, who holds several Irish passing records, is now an analyst for CBS and Fox News. He is just one of many former athletes who now call South Florida home. He lives in Fort Lauderdale's Rio Vista section. As a media figure, he is a good way to return to our original theme. Let's put him in charge of the new Veep's schedule to ensure this is the last column of its kind we have to write.
---