Larry King, Not Quite Live
Larry King. It was a name we heard in 1970 a few times before we left Philadelphia. People who knew South Florida said he was a media celebrity we should get to know. He was a radio star, something that did not exist in Philadelphia, where only TV personalities rated top billing. It took some time, but we did get to meet Larry King. Frankly, we had not been listening to his radio work. He was identified with Miami, and our magazine's circulation was Fort Lauderdale and north.
That changed, however, in late 1971 when we had a chance to acquire Miami Magazine for a song. That book was barely alive, and the chap who ran it suggested we meet Larry King, who might prove useful. King had just made news by being fired from his broadcasting jobs after he was arrested, accused of stealing money from an influential friend. The situation was blurry at the time, but it related to large gambling debts King had incurred and using money intended for other purposes to handle that debt. He needed work, and we met at lunch to discuss it.
We had no money to pay him, but that did not seem to matter. He wanted exposure to keep his name alive. We recall that for a man possibly facing jail time, he seemed relaxed. You had to like him. He may have actually written a piece for our new magazine. Copies of that early issue do not exist, but we recall reading a chatty, inoffensive column that he submitted. If we did use it, he is a member of an elite club - men who wrote for obscure Miami Magazine before they became national figures. The other man was Bill O'Reilly.
It appeared Larry King was finished, but over the next few years, we were vaguely aware that he was still around. His legal problems were settled, and he was back on radio and doing writing for local publications. But it was not until the mid-80s when he began appearing on national TV for Ted Turner's rising CNN cable station, that we realized the extent of his recovery. It seemed overnight that his interviewing skills had translated perfectly to live television, complete with his memorable suspenders and hunched forward on-air posture. He had risen from near obscurity to become the number one attraction on cable and a national figure.
Our own fortunes had taken a nose dive. A reorganization effort in 1982 resulted in a 10-year lawsuit over control of the magazine. During that time, we freelanced for anybody whose check would clear. Much of the work was for Sunshine, the Sunday magazine then published by the Sun Sentinel. By the spring of 1991, as King's popularity continued to grow, along with the years since he left Miami, we figured many of South Florida's new residents might not know of his tangled broadcasting roots here. We also figured it would be an easy story to do.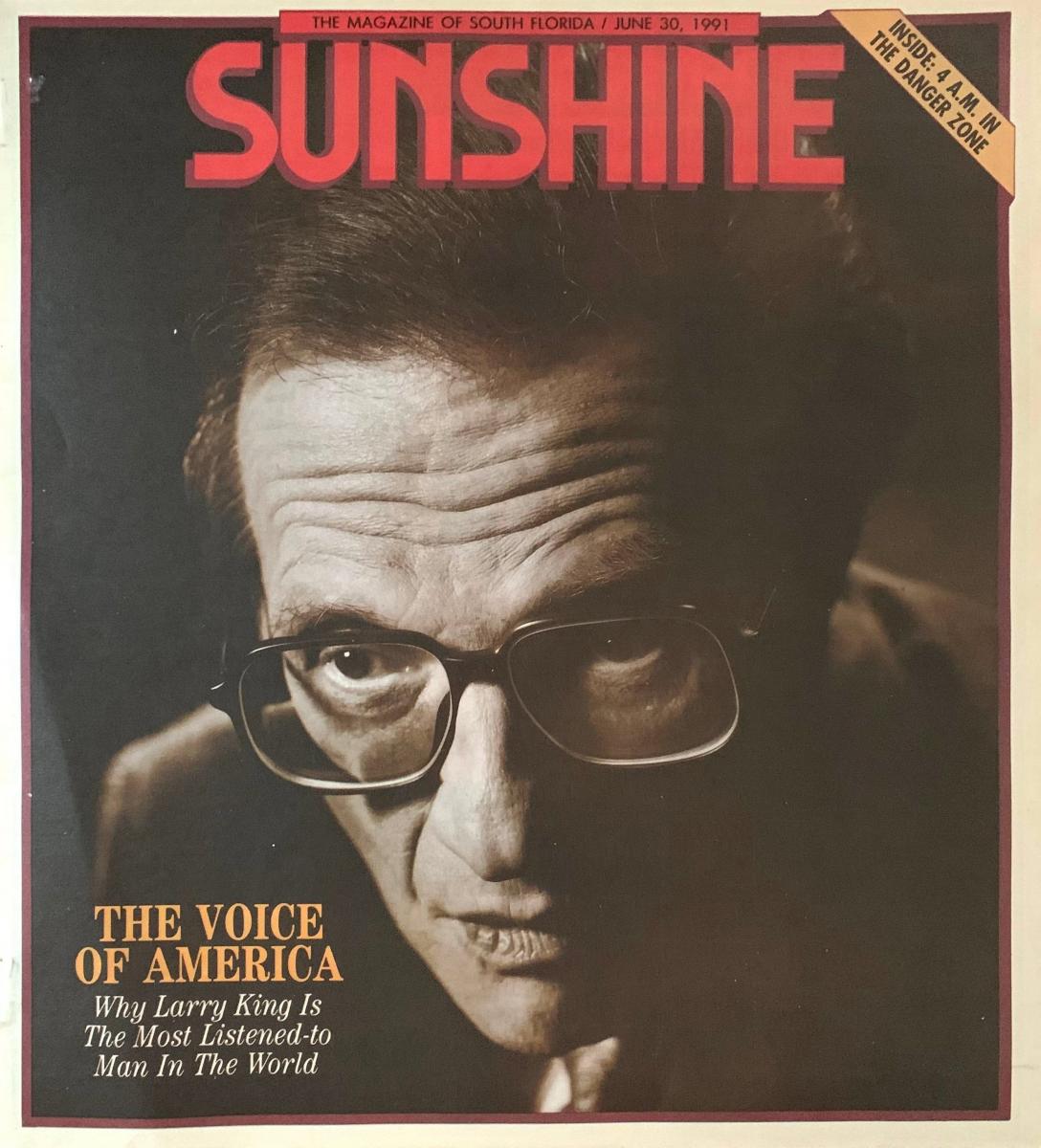 It was. We arranged to sit in on his nightly Washington-based one hour TV show, followed by several more hours of radio work at the Mutual Broadcasting station just across the Potomac River. It was sort of a "day in the life of" story, and Larry King made it easy. We met about an hour before his 9 p.m. television show and chatted as he went through make-up and prepared for upcoming interviews. His principal guest that night was reporter Bob Woodward of Watergate fame. He was promoting a new book and was not at the CNN studio behind Union Station. "Nice to do another book with you" was the first thing Woodward said when he appeared on the remote TV screen.
King had not read the book. He never did, preferring to let the author tell what it was about. There was little remarkable about his quotes in our story, at least not today. In fact the wording of some of his recent obituaries in the national press was so similar to stuff in our piece that we wonder if it was not part of files news organizations accumulate for death watches. Anyway, the Woodward interview went smoothly and as usual, King made his subject look good, with interesting but non-confrontational questions. He was criticized for asking mostly softball questions, but it was that quality that made figures as important as U.S. presidents want to appear with him.
"I've always considered myself a conduit," he expained while driving to his radio site. "I leave myself out of it. I never use the word I. I ask the beat questions I can, and I let the viewers ask their questions."
Larry King, having interviewed so many people on so many subjects, literally interviewed himself, answering questions he had not yet been asked. He exuded confidence and candor. He did not know who that night's radio guests would be and wasn't worried about it. His range was so broad that a mere hint of a topic would quickly be enough for him to wing it.
He showed that late in his three-hour radio gig, which consisted of several interviews and numerous phone calls. King loved sports (he was on the Dolphins originally broadcast team) and between breaks that night was checking baseball scores. It was apparent that his gambling habit was still alive, but now he could afford it. At one point he asked where we had gone to school, and the word "La Salle" was barely out of our mouth when he exclaimed, "I can see Tom Gola now in the Garden. What a ball player! LaSalle had sleeves on their uniform."
This was 40 years after Gola's college days. He was player of the year and led La Salle to the NCAA championship, but after four decades, outside of Philadelphia his name had begun to fade. But King not only recalled him instantly, he added that trivia about the classy uniforms. You got the impression he could easily go on for an hour recalling teams that played in Madison Square Garden and the uniforms they wore.
Asked about his comeback from the dark days in Miami, King said: "Did I foresee all this? Jesus Christ, no. I always knew I'd come back. But national? Never." Later he discussed his income, about $2 miilion a year from TV, radio and books he wrote. "I really started making major money at 55. That's not young to start making money. It's kind of a hoot."
He shared that hoot as a unique broadcasting figure for the next 20 years.
---