Accident Prone Brightline Needs a Facelift
The latest Brightline traffic death brings up a topic we have discussed before, but since nobody listened, we repeat our view. The FEC tracks are inherently incompatible with high speed trains. No matter how many barriers you erect preventing vehicles from entering the tracks when trains are coming, there are always drivers who will manage to get around them. According to the Sun-Sentinel, the driver killed in Boynton Beach over the weekend actually went around cars stopped at crossing gates. Reckless and illegal in the extreme, but that is just going to happen until the FEC is rebuilt to eliminate potential collisions. There is nothing novel about rebuilding railroads. Busy northeastern railroads, such as the Boston to Washington corridor which hosts the Acela train, eliminated grade crossings years ago.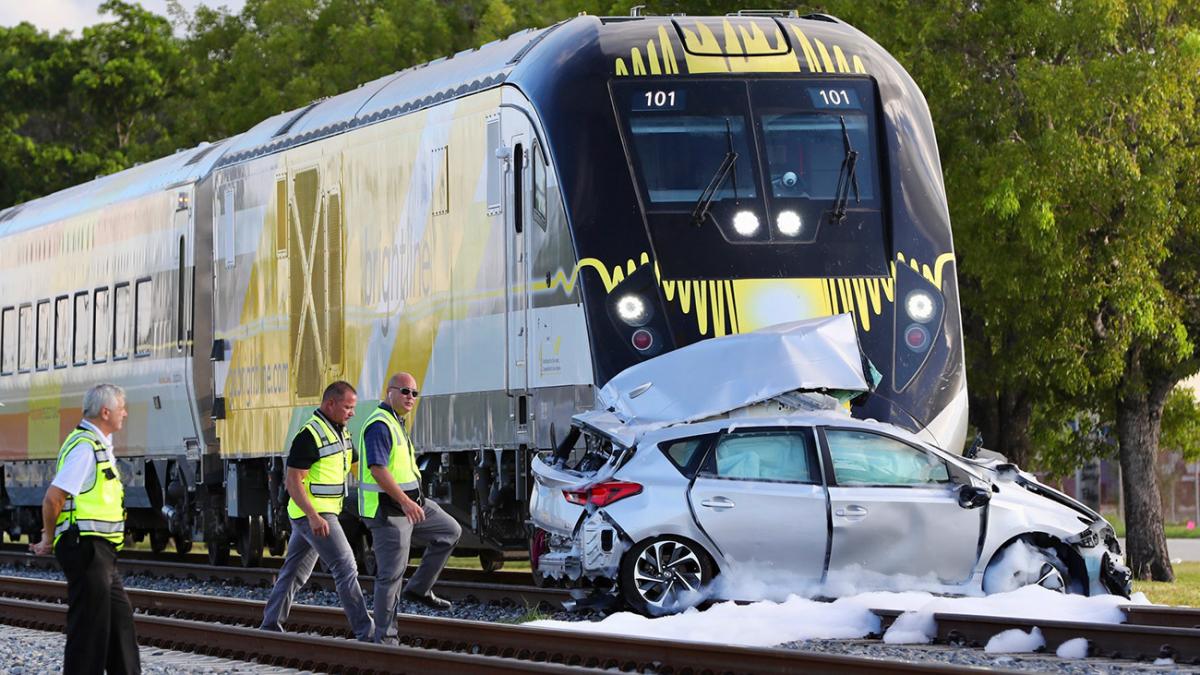 A Brightline train hit a disabled car in Hallandale Beach in September, 2022. (Amy Beth Bennett, Sun Sentinel)
We have surveyed the FEC tracks from Dade County to Palm Beach, and actually rode in the freight train driver's cab on two occasions. There are a number of places where crossings can either be closed, without too much inconvenience to motorists, or bridged without much damage to existing structures at the crossings. Notable among them are stretches of largely unobstructed track in the vicinity of airports - both the big one at Fort Lauderdale-Hollywood International and Executive Airport in north Broward. Such closings, coupled with fencing to prevent pedestrians from accessing the tracks, would permit trains to safely go even faster than the current 79 miles per hour for nice stretches. That should permit Brightline to slow a bit, say to 50 miles per hour, in more congested areas without seriously affecting the current timetables.
This becomes more important as new stations, in Boca Raton and Aventura, come on line. These will make Brightline more useful to many riders, but will also slow the timetables. Brightline is an inter-city concept, and you don't want it to become a frequent stop commuter line. If the cost of modernization seems daunting, compare it to the sums involved in building interstate highway systems with all the exit ramps and soaring overpasses. The rail improvements could be done gradually. After all, to coin a phrase, Rome wasn't built in a day. And neither was the FEC.
---