Memories of Bob Dole's Memory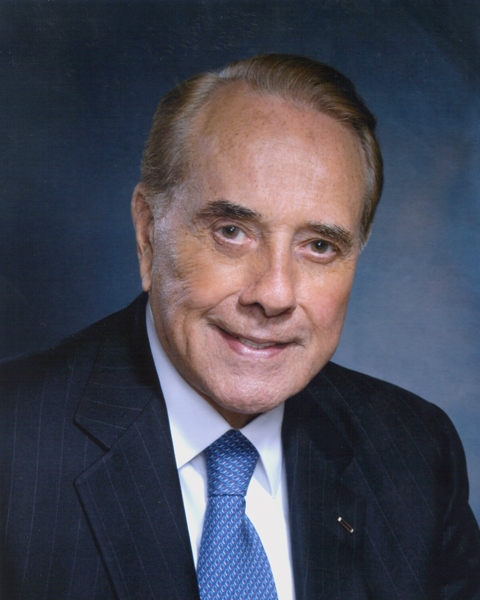 It was the summer of 1996 and Senator Bob Dole was running for president. Some thought he was not a strong candidate, despite his well-known war record and years of experience in Washington, because he was not a show horse and not as known to the public as some other senior senators. I was inclined to make him the second Republican I voted for for president (there was also one independent). His opponent was incumbent President Bill Clinton, who always rubbed me the wrong way. I had chuckled in approval when, following the 1996 election, ABC's David Brinkley said that Clinton "has not a creative bone in his body."
And so it came to pass that candidate Dole came to Fort Lauderdale for a reception sponsored by the Republican Party. It was at a beach hotel, and Mark McCormick, somewhat active in the party at the time, was invited, and he brought along his dad. We arrived a bit early and were surprised to find Senator Dole almost alone. What was immediately apparent was his handicap from his WWII wound in Italy. He quickly extended his left hand to shake, while his right hung uselessly by his side.
He must have asked Mark what he did, and Mark said he was just finishing six years in the Navy. Dole asked about his service, and they chatted for several minutes about Mark having been navigator of a fast frigate, and then teaching at the Navy Surface War School in Newport, R.I. The room was filling quickly, and as others approached him, Dole continued to show interest in Mark's background. Soon he turned to the work of the night and there followed two hours of greeting strangers and listening to speeches. By the end of the night he must have met hundreds, maybe a thousand people, most of whom were strangers.
We did not plan it that way, but as we headed for the door we chanced to see Dole again. This time he was surrounded by people, but to our amazement, he noticed Mark and made another comment about his Navy time. I have met a lot of politicians over the years, and even though some of them are good at names, we doubt many of them meeting so many people at a reception would remember someone five minutes later, much less resume a conversation from several hours before. Needless to say, he got our votes.
It wasn't enough, but as was apparent in the memorial service for him Thursday, Bob Dole has gone down as an all-round patriot, an admired war veteran, a legislator known for his integrity who got along and was respected by people on both sides of the aisle, and a man who put service above self.
One could not help but contrast this dominant Republican from what seems a distant era with the dominant Republican today — the latter a draft dodger who doesn't begin to know the meaning of integrity, who seems more at home with our nation's enemies than his own people, and who places himself above all others, living and dead. And despite his glaring abuses, continues to enjoy the support of many members of his own Republican party who are as dishonest as he, or too gutless to disown him.
Photo Credit: President's Commission on Care for American's Returning Wounded Warriors (PCCWW), Public domain, via Wikimedia Commons
---