Here Come the Irish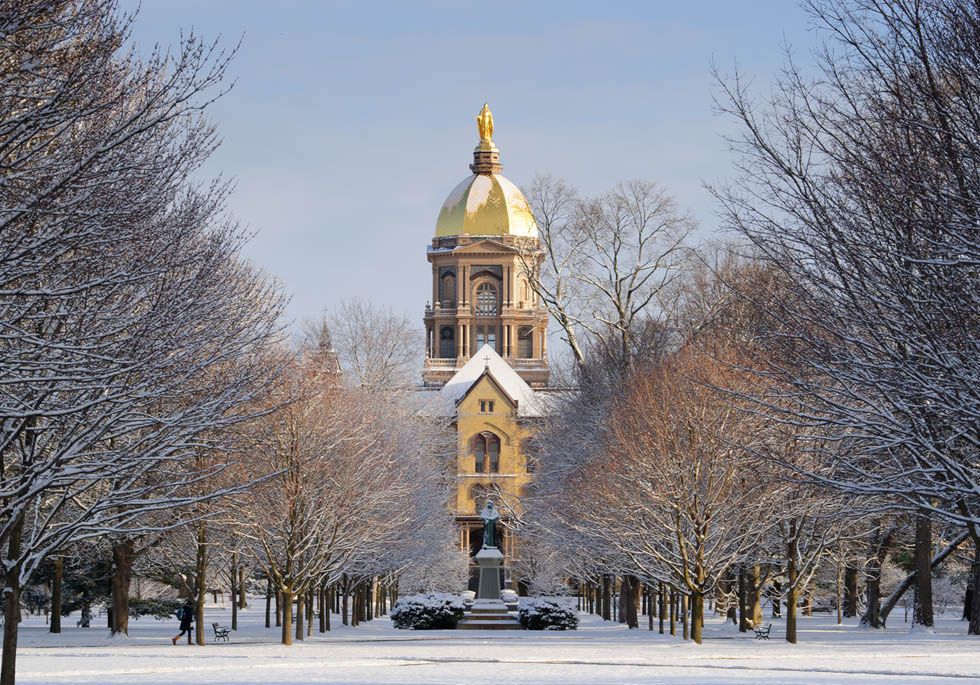 The addiction known as Notre Dame is returning to South Florida to play UM in a game that is as of old—a clash between two highly ranked teams that could bear on the national championship. Although the game is at home for the Hurricanes, it isn't much of an advantage, for Notre Dame has a powerful following in South Florida. Hell, it has a powerful following all over the country, wherever faith and football intersect. Still, there aren't many markets so distant from South Bend that have so many influential alums in residence. And all, needless to say, are football fans.
You can start with Fort Lauderdale Mayor Jack Seiler, but the Irish connection goes back long before Seiler was born. Consider Governor R.H. Gore, who came to Florida in the 1920s and built the newspaper now known as the Sun-Sentinel. Gore (who was governor of Puerto Rico, not Florida) did not go to college, but he lived in Indiana and was a Notre Dame admirer. He sent six of his nine children to Notre Dame, and members of more recent generations have followed. He died in 1972, at a time when his sons Jack and Ted Gore were top executives at the newspaper.
By then local athletes had become part of the Notre Dame football lore. Longtime U.S. District Judge William Zloch was a quarterback under legendary coach Ara Parseghian in the 1960s. Before that he was in the same backfield as the storied Brian Piccolo at Central Catholic, now known as St. Thomas Aquinas, a nationally recognized high school football power. His two brothers, Chuck and Jim, also played football for the Irish.
They were contemporaries of Notre Dame alums who starred for the young Miami Dolphins when it became pro football's only undefeated team. Linemen Bob Kuechenberg and Nick Buoniconti both had distinguished Florida careers after football.
A number of local players have followed their path, notably Autry Denson, from Nova High School who became Notre Dame's all-time leading rusher. After several years in the pros, he began his coaching career here on a high school level. Denson is back at Notre Dame coaching running backs.
Football isn't the only sport associated locally with the Golden Dome. The late Jimmy Evert was captain of Notre Dame's tennis team before he became a noted South Florida coach, whose star pupil was his daughter Chris.
ND grads are found all over the South Florida business world. One of the area's oldest retailers, men's clothier Maus & Hoffman, had three Notre Dame brothers working together—Bill, Tom (deceased) and John—along with a few members of the next generation. Bob Moorman, Notre Dame '73, heads another old Las Olas retailer, Carroll's Jewelers. Anyone hungry for more can go to any of the chain of Quarterdeck restaurants, owned by Paul Flanigan, another grad from the 1970s.
Notre Dame has an unusual presence in local publishing. Aside from the Sun-Sentinel history, three of the leading South Florida magazines have had Domers (as in golden dome, above) as chief executives. The late Ron Woods was the owner of Palm Beach Illustrated; John Shuff is owner/publisher of Boca Raton Magazine; and Mark McCormick is president of Gulfstream Media Group, which publishes six titles, including Gold Coast magazine.
Notre Dame clubs (there are five in South Florida) are about much more than football. They raise scholarship money and support local charities. Their local dinners are invariably well attended, and football isn't their only draw. They are present in numbers when the Notre Dame Glee Club makes its periodic trips to the area. The singers' next visit comes up in March. You know the Irish will turn out for their famous fight song—especially if they win Saturday.
Image via
---