Another Brightline Rave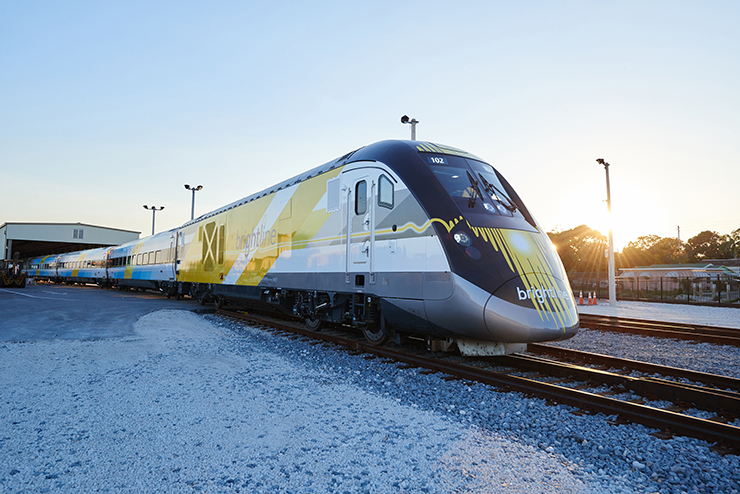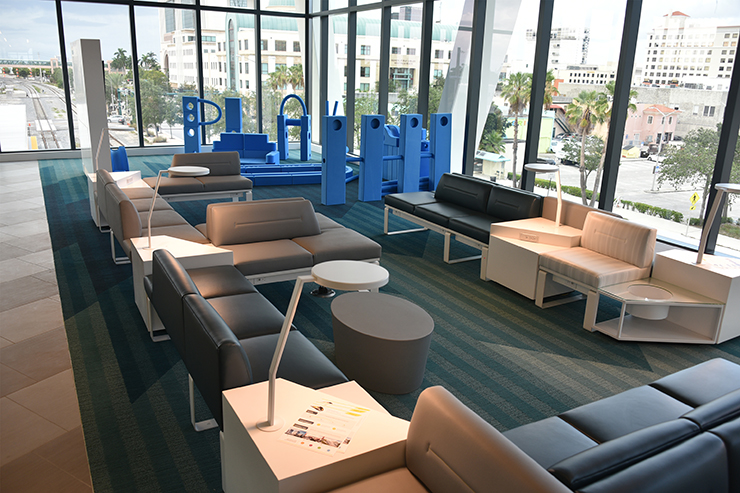 One by one, friends have been testing the new Brightline service on the Florida East Coast Railway between Fort Lauderdale and Palm Beach. Uniformly, they have given the fast train rave reviews. Last week, courtesy of Brightline, our editorial staff got to ride the train. Our verdict: Those rave reviews are right on.
The latest, and easily the most influential, comes from Trains Magazine, longtime (since 1940) bible of rail transportation. In a sprawling 10-page article with 20 photographs and illustrations, the magazine applauded Brightline for its meticulous planning and innovation. "Florida trains could rewrite book on U.S. passenger service" was the lead subhead. That's impressive praise in a magazine that has not been shy about criticizing its industry.
We scheduled our trip before we saw this tribute. We planned a lunch meeting with our Palm Beach county publishers at City Cellar, located in City Place within walking distance of the new Brightline station. That meant catching the 11:55 a.m. train from downtown Fort Lauderdale's station, just north of Broward Boulevard. The train pulled out on time and arrived in West Palm Beach at 12:30 p.m. That was just enough time for Ali Soule, director of public affairs for Brightline, who graciously hosted our little group, to give us a detailed briefing on the service, including some hints at expansion possibilities.
First, the stations are not your grandfather's train terminals. They feature the latest technology in buying tickets and have airport-style baggage checks. Passengers wait in comfortable lounges, where you can enjoy a drink, soft or otherwise, and reach the platforms by escalators.
The train itself is a beautiful job, a consist (four permanently connected passenger units with sleek engines at both ends) built by Siemens in California. It is an upgraded version of trains we have ridden in Ireland—wildly colorful on the outside, very comfortable inside, with seats that face each other with a table in between. You will see a lot of laptop activity on this train. The ride to Palm Beach is as fast as permitted by law, 79 miles per hour, although it did not go that fast leaving busy downtown Fort Lauderdale. I guess we hit about 50 until the train cleared the busiest intersections. Then it opened up and rarely slowed for the next 40 miles.
The ride is as smooth as railroads get. That is partly the design of the equipment, but also is due to the excellent FEC Railway roadbed, recognized by train buffs as one of the best in the country. And it sure is fast. Not Bullet Train speed but slightly more than a half hour from downtown West Palm to downtown Fort Lauderdale is excellent time. On our return trip we hit a heavy rain around Delray Beach, so heavy that we could barely see the traffic on adjacent Dixie Highway as we blew by the cars. Had that downpour been in West Palm Beach at rush hour, it could have taken close to half an hour just to drive to Interstate 95.
I must confess that, given the number of accidents involving Brightline in its first months of operation, there was some nervousness during that rain as we flashed past grade crossing after grade crossing. It was comforting, however, to see FEC employees in bright vests guarding many of the crossings—just to make sure some fool didn't invite eternity by driving around the crossing gates.
Which brings us to the challenge facing the new train if it is to reach its potential. There are hundreds of grade crossings on those tracks, each one an accident waiting to happen. They won't be as dangerous once motorists get used to seeing the train race by, but it will take time for people who are used to slow moving (sometimes even stopped) freight trains to realize that their days of trying to beat the trains are over.
But the fact is that eliminating those crossings should be a priority for all communities along the track. They should have never permitted them in the first place. In major northern cities tracks that originally met streets at grade level were elevated, depressed or bridged more than 100 years ago. The fast Acela train on the northeast corridor has very few grade crossings along the entire 200 miles from New York to Washington.
It will take years, and great investment to bring the FEC up to that safety standard, but a good start would be eliminating dozens of the less busy crossings. That would open up stretches where the train might even go faster than the 79 miles per hour now permitted. In the longer run bridges can be constructed on those sections where no major buildings would have to be razed to make room.
Those safety improvements would surely reduce the criticism of the new train, which has been especially strident on the Treasure Coast. But that opposition would stop on a dime if, as is likely, Brightline adds a stop or two between West Palm Beach and Cocoa Beach, where a new track is scheduled to take the train on its last 40 miles to Orlando. All it would take to silence some critics is one ride on the train. No one who does that can fail to appreciate its value.
The train will soon be extended to Miami, greatly enhancing its utility, and it is almost a certainty that several stops between Lauderdale and the major station in downtown Miami will be added. The Fort Lauderdale-Hollywood International Airport is the most obvious. The track passes directly under the airport entrance (which once was a grade crossing) in contrast to Tri-Rail's nearest station, which requires a bus shuttle. However, Brightline should not become another Tri-Rail, with stops every few miles; that would negate its speed advantage. Stops every 10 to 15 miles would seem about right.
Bottom line: Congratulations to the FEC and Brightline. You are long overdue and most welcome.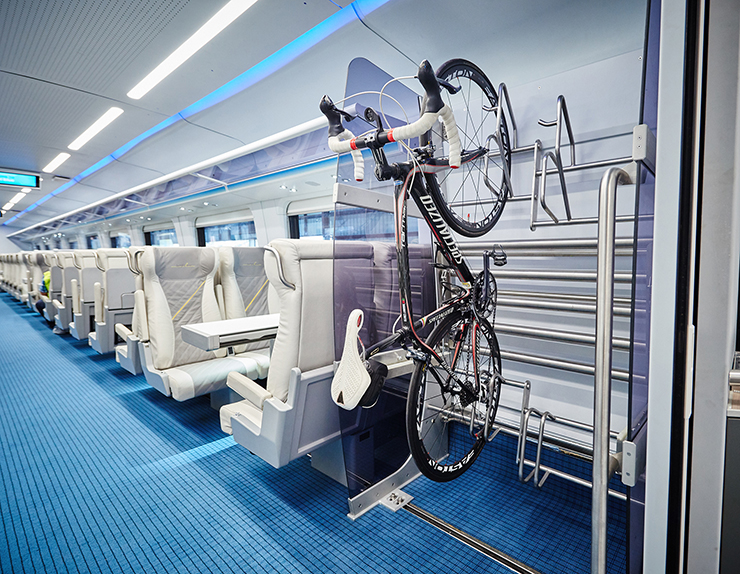 Images courtesy of Brightline
---