James Caan and Memories of Brian Piccolo
The memorials to actor James Caan, who died last week, largely featured his Mafia identity in the classic "The Godfather" film. But they also noted a role that to many in South Florida defined the actor's many cinematic achievements. That would be playing Fort Lauderdale native Brian Piccolo in the film "Brian's Song."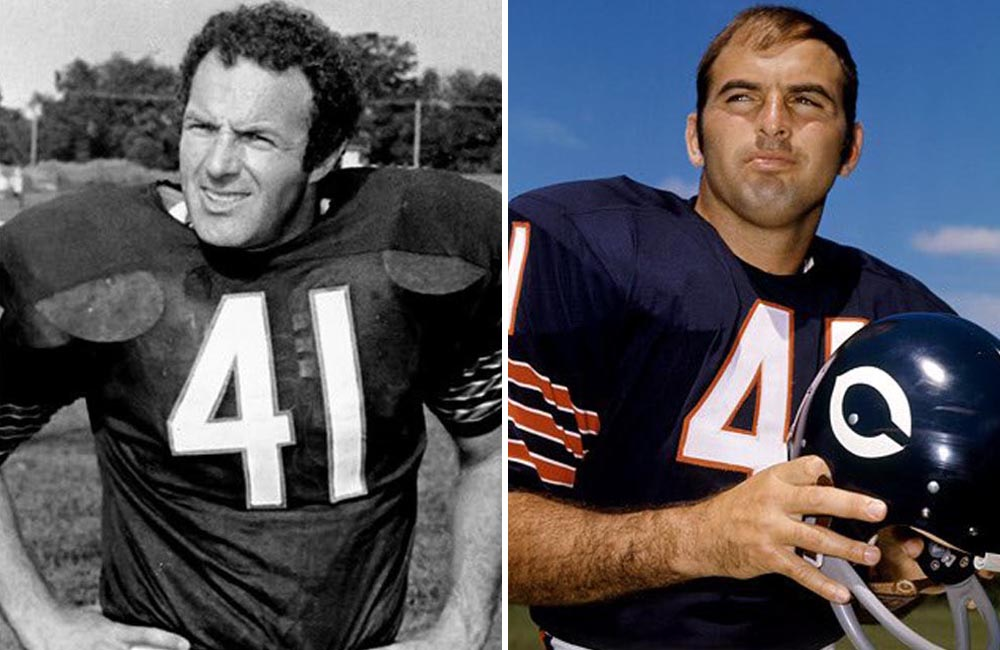 Pictured: James Caan (left) and Brian Piccolo (right)

"A lot of my local friends think that was the top his career," Dr. Dan Arnold said this week. It certainly was for Arnold, who was one of Piccolo's closest friends and played in the backfield with him at Central Catholic (now St. Thomas Aquinas High School.) For him, the role as the man they called "Pic" in the now iconic "Brian's Song" was more relevant than Caan's subsequent star fame as Sonny in "The Godfather" and other films which usually cast him as a tough mobster. Caan had been acting for several years, and had gotten some good reviews, but he was largely an unknown until he played Brian Piccolo.

The 1971 film was timely - Piccolo had died only a year before - and his outgoing personality had made him a favorite of his Chicago Bears teammates and fans. "Brian's Song" far exceeded the modest expectations for it. Its story was so inherently touching, combining the unusual friendship between the great Chicago Bears black running back, Gale Sayers, and Piccolo, who was mostly his backup, with the wrenching story of Piccolo's death from cancer at age 25. It has become a classic of its genre, still being shown occasionally on TV and still bringing audiences to tears.

Jeanne Morris, wife of a Chicago Bears player, wrote "A Short Season" upon which the film was based. She recalled that there wasn't a dry eye in the house when the Bears players first saw the film. Dr. Arnold was no exception.

"I saw it with my wife and father-in-law at their home in Tennessee," he recalls. "It was emotional. I didn't want to cry, but I looked over and saw my father-in-law and he had tears in his eyes. So I knew it was okay to cry."

Caan and Billy Dee Williams, who played Gale Sayers, both caught the spirit of the men. Caan's sudden rise to prominence helped land him the memorable role in "The Godfather" just a year later.

"The Godfather" made people think Caan was Italian for the rest of his life. He was actually Jewish of German ancestry. A bit older than Piccolo, he looked athletic enough to be a football player. And Dr. Arnold thought he captured Piccolo nicely. "His mannerisms, how he talked, he did a good job," says Arnold. For Arnold, the only discordant note in the film was the scene where Piccolo is dying.

"I knew Brian so well, and he was pretty worn out when he died. He lost so much weight. He wasn't the Brian Piccolo we all knew. Caan looked like a healthy man. But it was still a heartfelt movie."

Piccolo's death and the film had such impact that the medical community concentrated on curing embryonal cell carcinoma, deadly in 1970. Drugs were refined to battle that rare form of cancer. It is now 95 percent curable.

Dr. Arnold recalls Piccolo's soaring ambition as a teenager, even before he went on to star at Wake Forest and make it as a pro. He says Piccolo could not help but relish his enduring legacy. And he would probably delight in what has become of his backfield teammates at Central Catholic. He played halfback. The other halfback was Dr. Arnold, now retired, who became a leading children's dentist in Fort Lauderdale. The quarterback on that team was William Zloch, who went on to play at Notre Dame under Ara Parseghian and is now Senior United States District Judge for the Southern District of Florida. The fullback was John Graham who recently died. He was leading sales executive in the Nabisco Company organization.

Football legend aside, you would have to search a long way to find a more distinguished high school backfield.
---