A Memorable Anniversary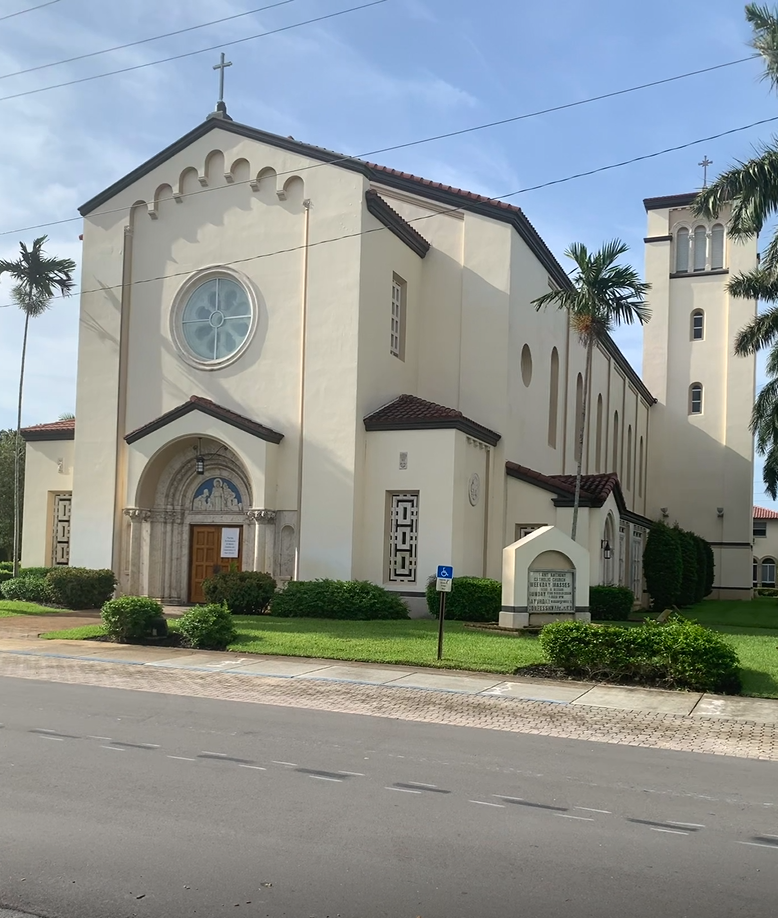 The McCormicks were honored to be part of the television presentation marking the 100th anniversary of St. Anthony Parish, Broward County's oldest Catholic church. Compared to some Fort Lauderdale families who date almost to the beginning of the parish, we are newcomers — only 50 years. We are perhaps unusual in that we remain in the same house we bought in a hurry in 1970, and have had four kids and six grandchildren attend St. Anthony.
It was all quite accidental. Moving into a new state and a new magazine, we did not have time to house hunt. Most young families were settling out west in Plantation and Coral Springs. The old neighborhoods in east Broward were out of favor with the younger crowd. Accordingly, Peggy began asking Catholic schools in Plantation if our three young kids could get in. She was amazed to hear one school had a three-year waiting list. We had never heard of a waiting list for a Catholic grade school in Philadelphia.
When she asked if there was any Catholic school they could get in, it was suggested we try the old school downtown — St. Anthony. When we learned there was no waiting list, our house hunt shifted east and was quickly solved by the delightful Martha Brown of L.C. Judd & Company, who had, in her words, "the perfect" house for us. She was sure right. Fifty years later we still live on a quiet street in the historic Colee Hammock neighborhood. It combines well preserved old cottages such as ours, built with durable Dade County pine, shaded by ancient oaks, with some spectacular (and expensive) new structures occupied by some of the city's leading citizens. And St. Anthony found us that location.
We did not, however, want our kids in St. Anthony just for the convenience. We wanted a learning environment we both knew well, a safe and orderly classroom experience, hopefully instilling the values we shared, and presumably shared with all the parents in the school.
We found that, and much more. On the first day of school the first young mother we met was Jane Hearne. She was the former Jane Maus of the Maus & Hoffman men's clothing family. They had created the modern Las Olas Boulevard when, in 1940, the original William Maus led a group of merchants from northern Michigan to establish winter operations in Florida. At least 10 stores followed that company south. That first meeting led to a relationship with three generations of one of the town's most prominent families. That relationship led to a trip to Petoskey, Michigan, to see (and write about) where all these businesses had their start.
It soon became obvious that we had found in St. Anthony a trove of Broward County's leading citizens. We learned that Brian Piccolo, newly dead and not yet memorialized in the film Brian's Song, had gone there. Also Chris Evert, still in high school when we arrived but already a national tennis figure. The Gore family, which was still running the Fort Lauderdale News (now the Sun-Sentinel) had strong connections to the school. The family of E. Clay Shaw, Fort Lauderdale's mayor in the 1970s, and later a longtime U.S. Congressman, was a member of the parish. Jack Seiler, who became mayor several decades later, was a student in the school at the time. The Thies family, of beer distributor fame, were parishioners. Many of the pioneer families have had two, and in some cases three generations (going on four) associated with the school. Mauses, Camps, Buckleys, and many others have added new waves of students to the school.
Over the years our family was no more active in parish activities than dozens of other families, but we were privileged to be selected by the then Pastor Timothy Hannon (one of several Irish born pastors over the years) to have our daughter Julie among the small group of children who met the Pope at the Miami International when he visited in 1987.
The anniversary TV presentation included remarks by Father Michael Grady, St. Anthony pastor, who has built a reputation as a master of short, trenchant homilies (rarely longer than three minutes) and Sister Therese Margaret Roberts, age 94, who said she remembers the building opening. She taught at the school for decades.
Key participants in the video, and most deserving, were members of the Camp family. James Camp II was in the same class as Sister Therese. He joked about her catching his passes in gym class. His father was one of the earliest parishioners, arriving in 1925. He helped launch Broward's first bank after they all closed in the troubled 1920s and became a statewide figure in the financial industry. James II became a lawyer and was joined by his son, also James, in the law firm.
"My dad is 93, and was baptized here," Jim Camp III said. "I'm one of five, and we were all baptized here, as well. We're members here with the school, went on to St. Thomas Aquinas, and I have five children, and they were all baptized here."
"I hope that it's always here," he added. "I guess I'd like to see some of my grandchildren to continue part of their life here as well."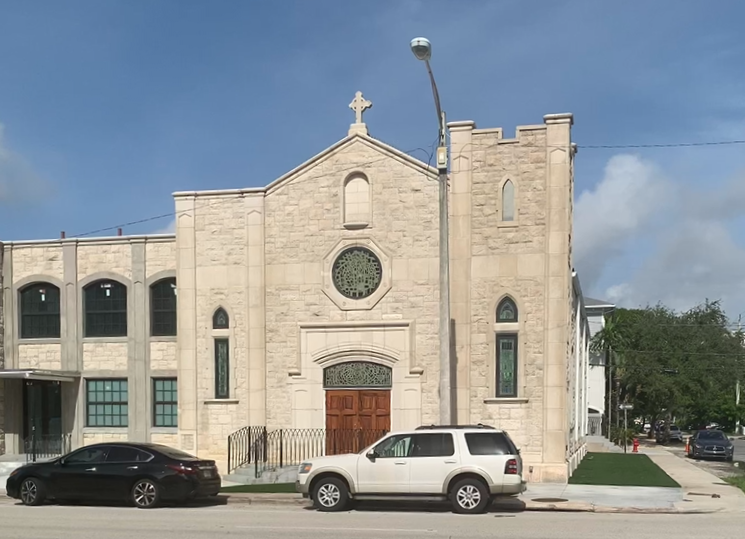 The graceful St. Anthony Church opened in 1948, replacing the original smaller church on Las Olas Blvd., which moved to 3rd Ave. and became the First Evangelical Lutheran Church (above). Only recently, it closed and is slated to become a restaurant nightclub.
It did not make it into the TV interview, but we contrasted our Philadelphia experience with St. Anthony's legacy. In the 1950s we could walk to three Catholic grade schools and had a short ride on public transportation to reach several more. All but one of those schools are gone, and in several cases even the parish churches, beautiful old structures, have closed. On the other hand St. Anthony is close to its capacity of 490 students. Its affluent surrounding neighborhoods and the explosive growth of downtown assure the school continued support.
St. Anthony not only continues to thrive. It is still growing. The parish used its 100th anniversary to launch an ambitious expansion of the school and a parish social center. Come back in 100 years to see how that worked out.
---