Farewell to Chairman Bob
It was about 1975. It was our fifth year into the magazine we had renamed Gold Coast. We had been running a column by a financial fellow named John Pond. It was supposed to be about money management, but John did not tout stocks or discuss retirement strategies as much as he waxed philosophical about various subjects. It was quite a change from the columnist who preceded him, whose pieces were turgid, usually self-promotional and only appeared in the magazine because he was a regular advertiser.
We were still getting to know our way around Fort Lauderdale. We had just become convinced that there were only a few roads from the mainland to the beach, and there were no short cuts down waterfront finger islands. We needed friends in high places and John Pond suggested we get to know a young fellow in the financial world named Bob McCabe. For reasons we have never quite understood, Bob McCabe took an immediate interest in our magazine. Realizing we were undercapitalized, it wasn't long before he arranged a luncheon with a banker. Not just any banker. This man was president of one of South Florida's biggest banks.
Our editorial partner Gaeton Fonzi attended. He was editor of Miami Magazine which we had acquired for a song and were in the process of building to the Gold Coast standard. Bob McCabe did such a good job of selling our story that before lunch was over the banker offered to lend us a ridiculous amount of money. He had not even seen a financial statement. It was obvious that he had not loaned our magazine the money. He had loaned it to a friend of Bob McCabe.
That story tells about Bob McCabe's life. He branded himself "a people chemist", if that alchemy can be enhanced by a love for witty asides and pithy comments, often colored by self-ridicule. Example: "I have never been drunk, but occasionally I've been over-served." It was one of the qualities that appealed to the wealthy associates he developed over the years – a quality he preserved until the last days of his life, which ended April 21 after a battle with heart disease.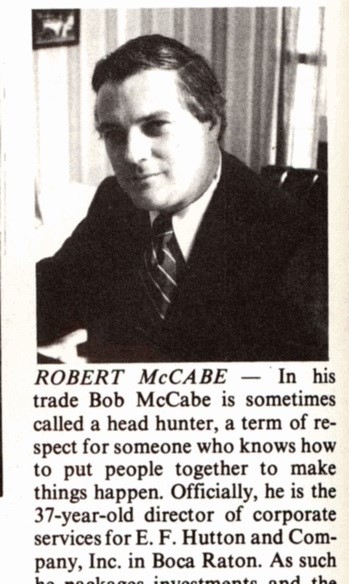 Bob was not born to money. He came from a working-class family in the St. Lawrence River town of Ogdensburg, New York. But as a youngster getting through Syracuse University he worked summers at The Thousand Islands country club, where he became comfortable around creditworthy people and made easy friends with some of them. One of them was Milton Weir, who headed Arvida Corporation which was in the process of building Boca Raton. Weir was impressed enough with this young man to invite him in 1967 to come to Florida to handle PR for a bank he owned.
By the time we met him he was director of corporate services for E. F. Hutton in Boca. He was also a director of the Bankers Club, where the powers of the city hung out. His contacts were so widespread that the joke was that Bob McCabe had a microphone under every table at the club. There were few influential people in Boca that he did not know and become friends. For all his wisecracking, he rarely offended anyone of high rank or low.
Nila Do, a young editor who joined our company shortly out of the University of Florida, recalls that quality: "I remember having lunch in Vero Beach, and Mr. McCabe speaking with me as if I were an equal, looking me in the eye, and listening when I spoke. What I took away from our brief time was that he embraced me, the company's new managing editor, in all my unproven ways, and that his trust in Bernie was unbreakable."
Those people skills changed venue in 1984 when he met and soon married Eleonora Wahlstrom in Vero Beach. She was already known as one of that well-heeled community's leading philanthropists. Much of his last 40 years were spent in philanthropic activity. The Robert F and Eleonora W. McCabe Foundation supported many charities in Indian River County, and Bob was involved in most of them. He also became an active investor. Living on John's Island, he made important friends as effortlessly as he had in Boca Raton, connections that a decade later proved a huge benefit to our magazine.
His move to Vero coincided with a disaster for our company. A reorganization failed due to some corrupt investors and a marathon lawsuit followed. Bob was supportive through that ordeal, and when we finally regained control in the early 1990s, he worked his magical charm again. This time we expanded to the Treasure Coast with a whole new investment group. We found important people in Fort Lauderdale. Bob took care of the northern region.
Did he ever. Among those he brought to our boardroom was a CPA for Wayne Huizenga's enterprises; a retired millionaire lawyer who was a John's Island neighbor; a partner in the old line financial firm of Brown Brothers Harriman; and a young scion of one of the country's foremost financial families who became southeast regional president for JPMorgan in Palm Beach. Bob himself was the logical choice for board chairman.
As anyone who has raised money for a new company will attest, quality attracts quality, and several of those initial shareholders introduced us to new investors over the years. We wound up with four people associated with Wayne Huizenga's companies. Altogether we had 28 shareholders (not all at the same time) and every one of them got out with a nice profit. Not the least Bob.
Our son Mark had attended Notre Dame on an NROTC scholarship and had just completed six years of active duty. He joined our company as a salesman, but quickly learned enough about publishing to take over as chief operating officer. Bob served as a mentor during those early years and, although originally skeptical, supported Mark's decision to devote funds to start a software program designed for the publishing industry – a company that has been highly successful. Bob stayed with us as chairman until last year, when he was the last shareholder to exit.
We know he enjoyed his role as chairman and he took great satisfaction in that all of his investors made a tidy profit. Still, we were surprised when his official obituary, in which he obviously had a hand, said he considered the magazine company his main business achievement.
Raised in a Catholic family, Bob described himself as a " Roaming Catholic" and did not seem overly concerned about the next world. But one thing you can count on. When it comes to the dark regions below or heavenly paradise, he knew which way was up. And if he did go above we can be sure his new best friend would be St. Peter. And he would work his way up from there.
---