Two Who Will Be Missed
Broward County recently lost two important and popular figures who, although in very different fields, have had a memorable impact on our lives. Civic and political leader Joel Gustafson and public relations agent extraordinaire and Fort Lauderdale booster Jack Drury passed away in the last weeks. Gustafson died on August 31 at age 83, Drury on September 11 at 90.
The men shared an interesting dynamic. Gustafson's career was often political but he had an excellent PR sense, and was very popular with the media. Drury, although in PR, not surprisingly had good political instincts. Almost everybody liked him, and if he did not fancy people he worked with, he kept it to himself, at least until they belonged to the ages.
In both cases there was no public notice for days after their deaths, a revealing comment on these unusual times.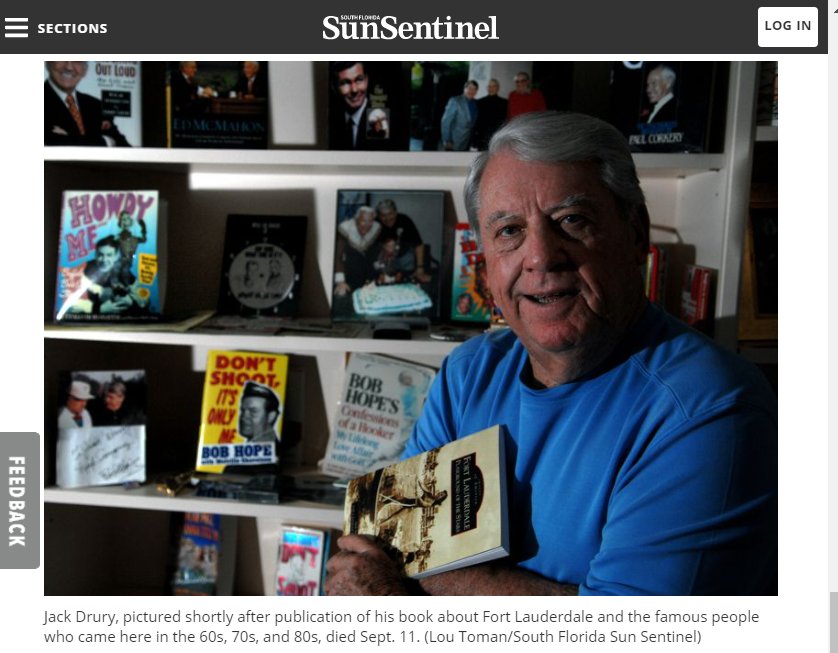 Jack Drury (screenshot: sun-sentinel.com)
Jack Drury came to Fort Lauderdale in 1960. He was from North Jersey and had majored in marketing at Seton Hall. He had begun his PR work for a New York firm that transferred him to Fort Lauderdale to handle the big Gill Hotel account. He struck out on his own two years later. He was well on his way when I met him in 1971.
He was one of the first important contacts I had when arriving in Fort Lauderdale, and goes down in our personal history as one of the handful of people who conspicuously helped our restyled Gold Coast Magazine gain acceptance under difficult circumstances. He is in good company. Two of the others were Theresa Castro and Joe Amaturo.
I knew almost no one in Broward County when we bought Gold Coast Magazine. Not without cause, the woman who sold it hated me and my partners. She thought she had sold to a local wheeler-dealer who would be a sugar daddy, leaving the book-running to her. She had not expected real magazine writers from the highly respected Philadelphia magazine to be involved. I soon learned she was trying to sabotage our efforts to improve the publication, which started out with the name Pictorial Life and was amateurish, but financially successful.
Jack Drury contacted the magazine in regard to the 15th anniversary of the Mai-Kai restaurant in 1971. Drury introduced Bob Thornton, one of the brothers who owned what at the time was likely the city's best-known restaurant. I was impressed by both the handsome and engaging Drury and Thornton, and the result was a readable cover story. That cover had Thornton posing beside a sexy Mai-Kai girl in a huge vat. It was a notable departure from previous covers and suggested more sophisticated directions for the magazine.
What was important about that story is that Jack Drury seemed to believe in our group and our ultimate success. Not everybody did. And over the years, he involved our magazines in almost everything he promoted locally. Of course it was smart business for him, but it was also a standing endorsement of our product, and much appreciated.
In the '70s, Drury was at the height of his professional success. He had represented, or associated closely with, some very big names. He could write a book about it; in fact, he did in 2008, in paperback form. Fort Lauderdale: Playground of the Stars featured photos and commentary on the many celebrities he had worked with. He was especially close to Johnny Carson and sidekick Ed McMahon, but the book also included Bob Hope, Buffalo Bob Smith (of Howdy Doody fame), Cary Grant, Billie Jean King, and many others.
It was revealing that Drury included Fort Lauderdale in the title. He was responsible for bringing big names to town. Former Fort Lauderdale Mayor Jack Seiler called him the biggest cheerleader the city ever had. In the process, he helped build events which are now strongly identified with Fort Lauderdale and South Florida.
It is often forgotten that he was one of a group that saved the Jackie Gleason Inverrary Classic golf tournament after the strong-willed Gleason, who Drury found hard to work with, decided to back off the event. They found new sponsors, and today it is the Honda Classic in Palm Beach County, one of the area's premier sporting events. He was also active in the Winterfest Boat Parade. He brought Ed McMahon to be that event's Grand Marshal.
In the later years of his long life, he reunited with one of his first associates in Fort Lauderdale. He had known Ken Behring since the latter began his development career by founding the city of Tamarac. Behring went on to become one of the country's top housing builders, and eventually owned the Seattle Seahawks football team. Drury arranged for a magazine interview with the unpretentious Behring when he returned to Fort Lauderdale in connection with launching the Wheelchair Foundation, of which Drury was Southeast President from 2002 until his death. The organization has delivered more than a million wheelchairs worldwide.
A public memorial service for Drury is being planned for late October.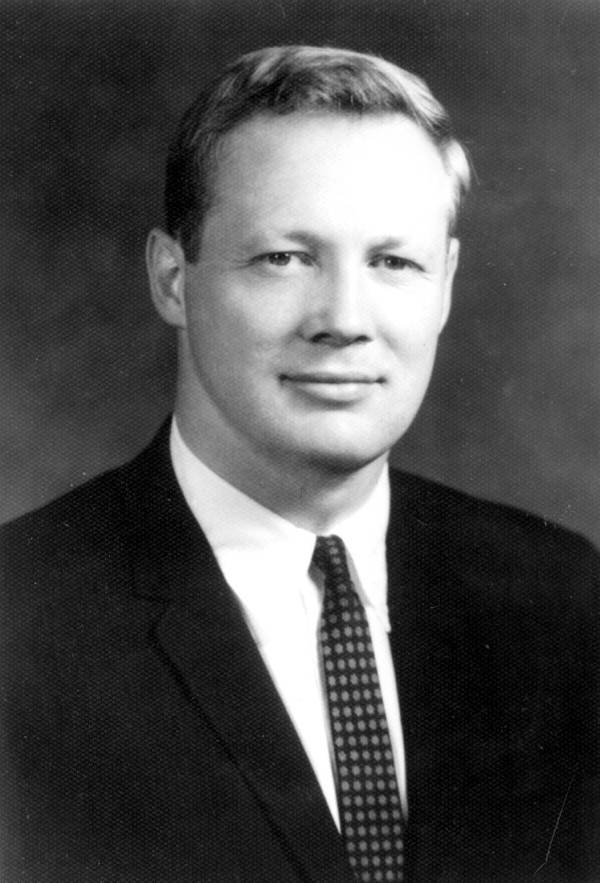 A young Joel Gustafson (photo: Florida Gov't, Public domain, via Wikimedia Commons)
Joel Gustafson was a lifelong athlete. From Connecticut, he attended Lafayette College on a sports scholarship and was captain of both the football and track teams. He remained an active outdoorsman. He came to Fort Lauderdale after earning his degree from Tulane Law School in the early 1960s. He quickly established himself as an emerging community leader and was elected to the Florida Legislature in 1967 and served three terms. That's where I first encountered his name when Gold Coast did a story on South Florida legislators. I was a stranger to the capitol, but Van Poole and Ed Trombetta led me to valuable contacts. In retrospect, it was a distinguished era for that body. The quality of South Florida members was especially impressive. In addition to Gustafson, they included Bob Graham, Sandy D'Alemberte, Janet Reno, and Marshall Harris, all Democrats. Gustafson, a Republican, had just departed the legislature, but his name came up often in Tallahassee, for as Republican Minority Whip he got along well with the opposite party. It resulted in some years of important modernizations of Florida's laws.
His subsequent career filled a long obit in the Sun-Sentinel. Highlights were terms under four Florida governors on the Florida Commission on Ethics from 1978 to 2004 and six years on the board of the North Broward Hospital District. He also served on the Orange Bowl Committee, the Whitbread Race Committee, the host committee for two Super Bowls, the Breeders' Cup, and on the boards of the Henderson Behavioral Health Center, the Broward Alliance, and the Florida Chamber of Commerce. Later in life, he was chief of staff for his longtime friend Congressman E. Clay Shaw.
In every endeavor, his charm and wit made him universally popular.
Among the many tributes to Gustafson, this one from highly respected political writer Steve Bousquet is notable:
"I knew him well, and covered him for many years as the Broward political reporter for the Miami Herald. I found him accessible, astute and candid, and someone who never took himself too seriously. I profiled him in 1991 for a story about the five most effective land use lobbyists in county government. Behind the scenes, he had a major influence in the modern development of Broward. He was in the Legislature at the dawn of what's now regarded in hindsight as a "golden age." Today's Legislature sure could use someone like him."
Amen.
---