Roger Penske at Indy — 1969. Birth of a Legend.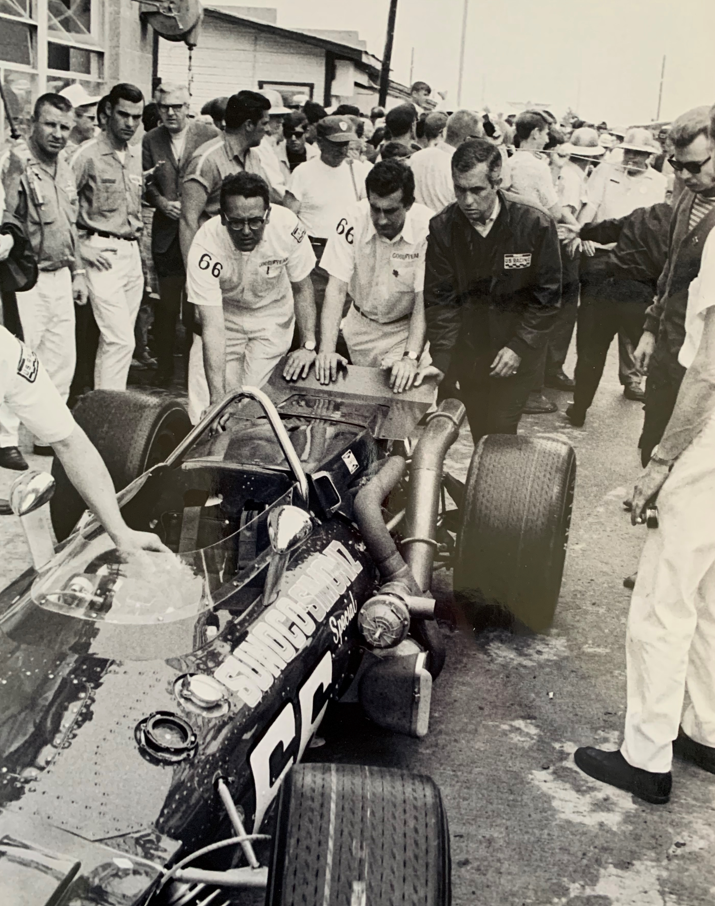 Roger Penske was a hands-on manager. He helps push his racer to the garage. (Bernard McCormick carried an early pocket camera. His photos accompanied his story.)
Alan Halpern, editor of Philadelphia magazine, was not a big sports fan. But he knew many of his upscale business audience were, and one of the reasons he hired me may have been my background as a newspaper sports writer.
In any event, the magazine began doing sports articles in the mid-1960s. We went to Florida for spring training with the Phillies when Gene Mauch was the innovative manager and Dick Allen its star hitter. We spent time with the Eagles during one of its less memorable fall seasons, and later traveled with the 76ers when they had a championship team with star Wilt Chamberlain. We visited Canada pre-season to welcome the Flyers bringing big time hockey to Philadelphia, and went out on the water with Philadelphia's Vesper Boat Club after they had won the Olympic eight race.
Halpern also cooperated with the ad boys to attract business, and thus it came to pass that we lucked into a story on a local boy with big promise in auto racing. Having bought a Porsche (only $2,600 — used but in great condition), I had an interest in sports cars. You would not mix that car up with later Porsches. It had only a 90 horsepower rear engine, but it was great fun to drive and impressed people who knew what a Porsche was. The German firm had just entered the U.S. to compete for the youth market with British sports cars such as MG, Triumph, and Austin-Healey.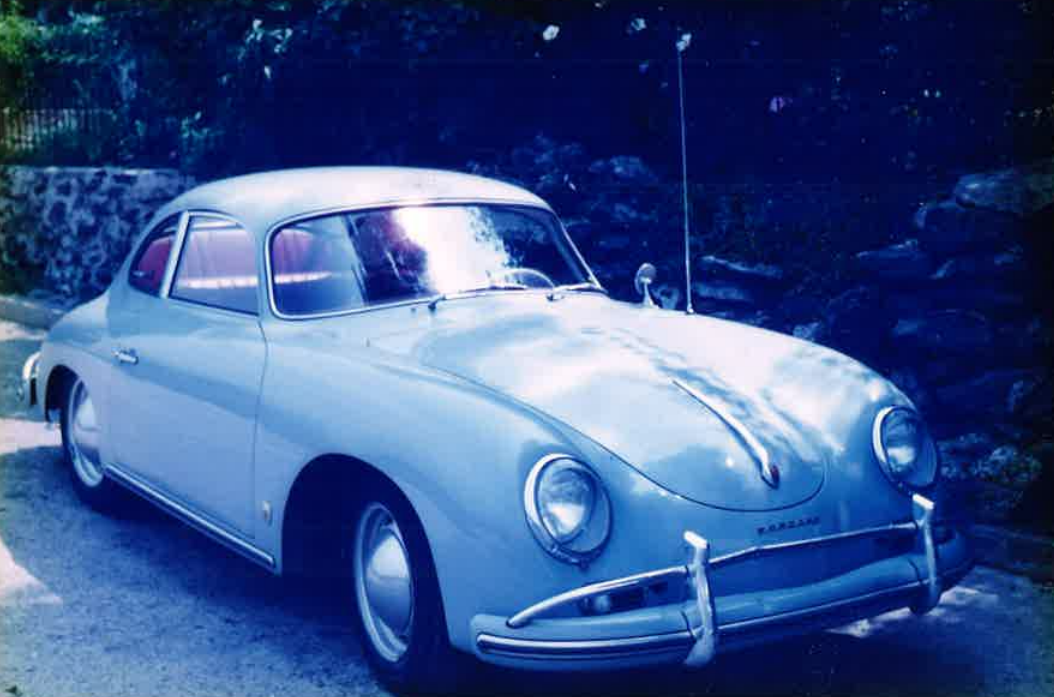 McCormick drove a used 1958 Porsche at a time when its now-familiar shield logo was little known in the U.S.
Roger Penske's name had been mentioned in the Philadelphia papers since he began racing while still at Lehigh University. He became one of the best drivers in the sports car field, driving various cars including a Porsche. He did this while entering the business world. He stayed close to cars, first as manager of a Philadelphia Chevrolet dealership, then as the owner. Although he gave up driving, he managed a sports car team which had great success with a young driver named Mark Donohue. By 1969 their reputation was enough to warrant serious press when they announced they were going to take a big step up by entering the biggest race of all, the Indianapolis 500. It was a new form of racing, an oval track, much different from the serpentine, undulating sports car venues with their constantly changing speeds. Sports car racing had a limited fan base, whereas Indy was one of the great events in sports, attracting live crowds in the hundreds of thousands.
For Philadelphia magazine, it was a made-for-order story. It involved cars, whose advertising we sought. It focused on a young local man rising in business who had shown his acumen by landing Sun Oil as his principal sponsor. That firm was a local giant whose office was just around the corner from the magazine, and its PR man was a friend from the newspaper business.
Roger Penske could not have been more cooperative. Although I had owned a Porsche, I had never seen an auto race of any kind. I probably told Penske that, and he gave me a pretty good education. I visited his racing headquarters in suburban Philadelphia, and the facility where his novel four-wheel drive Lola was being prepared. I made several trips to Indy, including the rookie qualification weekend, and flew in Penske's rented plane.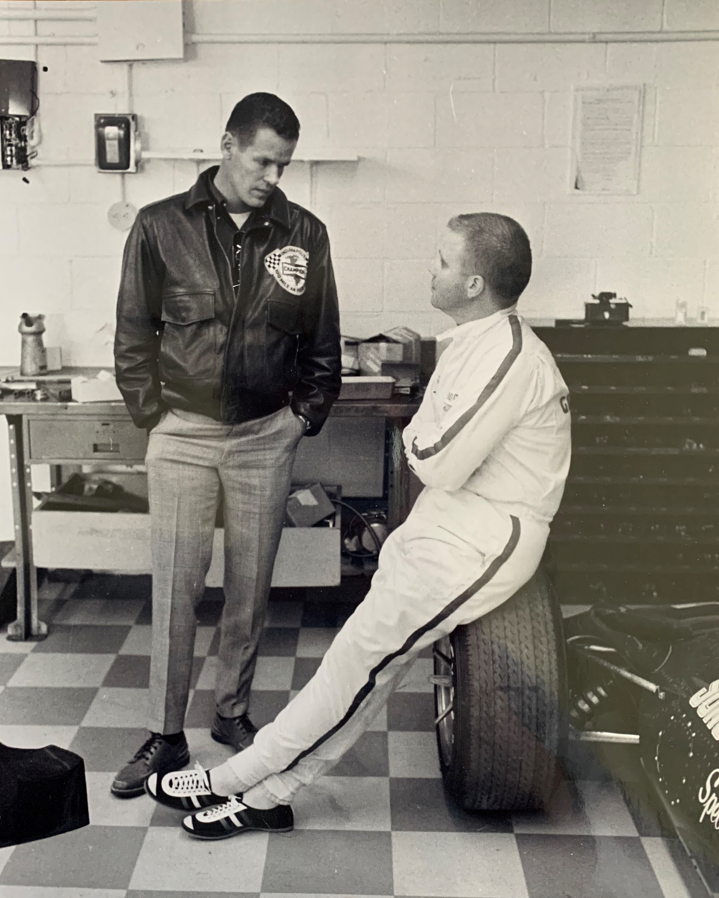 The team's garage was a parade of reporters and racing notables. Bobby Unser, who had won the previous year, visited Mark Donohue.
Penske and Donohue commanded remarkable attention for newcomers. Their garage, which he kept immaculate, was constantly crowded with reporters and prominent racing figures. Compared to typical Indy teams, they were viewed as college boys from elite schools. (Donohue had an engineering degree from Brown.) They both already had nicknames. Our story was titled "Captain Nice and Mr. Clean at Indy." Penske's obsession with neatness and detail and Donohue's soft-spoken and pleasant style preceded them.
After qualifying with a fast time, their car started in the second row, and was running third when an engine problem cost them time in the pits and led to a sixth place finish in a race won by Mario Andretti. Penske's work did not end that day. I wanted one more visit with him and he met me the day after he returned to Philadelphia in his office — at 7:30 in the morning. He was signing 130 thank-you letters that had been prepared in advance. He said it did not take much time and people appreciated it. One sensed a man destined for distinction.
Penske had estimated it would take them three years to win at Indy; he was off by a year. Donohue won in 1972. His career and very close relationship with Penske ended when he died in a practice accident three years later in Graz, Austria. A blown tire sent him into a track barrier. He did not appear to be injured. He complained of a headache and died the next day from a brain injury. Roger Penske went on to win a record 18 times at Indy with various drivers and car manufacturers. Nobody else is close. His work off the grid has been just as impressive. His company owns various businesses, including truck leasing, collision centers, hundreds of auto dealerships (a number of which are in Florida), and even a media company. His companies reportedly employ over 60,000.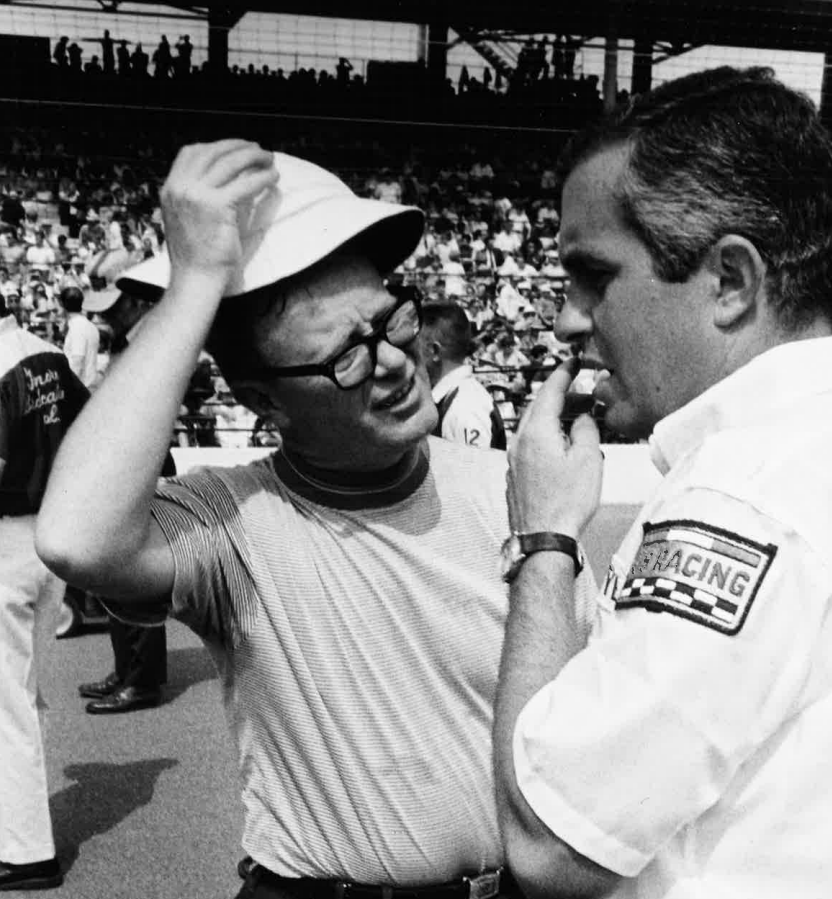 Penske had a deft and gracious touch with the media. He is interviewed by Philadelphia columnist Sandy Grady.
In recent years his empire included a special acquisition. In 2019 he purchased the Indy 500 and the IndyCar series. His development of the Indy 500 was delayed by the Covid epidemic, limiting the size of its Memorial Day crowds, but this year it was back on track with 300,000 in attendance. I have tried to watch the Indy 500 every year since that memorable 1969 race, rooting for another Penske winner. But last Sunday was special, with the race celebrating its new owner. Roger Penske, still active at 85, gave the storied command: "Drivers, start your engines."
My thoughts went back 53 years to that weekend in Indianapolis. One of the numerous sports writers following his team marveled at all the fuss being paid to this impressive newcomer to auto racing's biggest event. Watching Penske's poise while being interviewed by a national TV figure, he dropped a comment.
"You would almost think he owned the place."
---